Our Travels
Our first year has taken us to a few provincial parks in Alberta and Saskatchewan.
Prince Albert National Park
Our first trip out was to Prince Albert National Park. We loaded up the RS with what we thought we needed. Ha! What a joke. We would have been smarter to camp in the driveway. Except, we live in a townhouse with a driveway that slopes down into the garage and there are bylaws against staying in a camper on the street. Perhaps a closer campground would have been smarter but we love to drive so out we set.
By the time we arrived at the bottom of the park it was getting dark and I wanted supper. The booth was unmanned and it was still a distance to the next check-in booth so we decided to pull into a parking area and create our first meal. Preparing our spaghetti supper went off without a hitch but when it came time to do dishes we realized we hadn't turned the water pump or heater on. It didn't take long to have hot water coming out the tap. Very cool.
We set the bed up and retired for the night. This was May in Northern Saskatchewan where the nighttime temperatures hovered around 5°Celsius. We hadn't given the furnace a single thought. The next morning found us quite chilly and reluctant to leave the blankets. That's when we noticed the thermostat and turned it up. Within seconds warmth was being blown out the furnace and we gave thought to breakfast. We both decided that coffee was the next important step. We turned on the generator and soon the coffee maker beeped letting us know we were good to go. What a wonderful coffee that was.
This is definitely a park we will visit again.
William A. Switzer Provincial Park
Our second trip took us into the Rockies to Gregg Lake. This was a beautiful park with very private sites. When we visited we were the only ones in the loop. Here we plugged in for the first time. It was nice to not have to run the generator to make coffee. This was also our first time emptying the tanks. We discovered that the sensors did not reflect that the tanks were empty.
Cross Lake Provincial Park
Our third trip took us to Cross Lake. It was the first gravel road we have taken. The park itself was a little too crowded and busy for us. We like quiet and when you have the same kids bike by your site 20 times in one afternoon it's not as enjoyable.
Bow Valley Provincial Park
Bow Valley was our first power and water lot. It was nice to not hear the pump running but it did teach us a lesson. When the water flows without hearing the pump you don't think about conservation but seeing as how the grey and black water tanks are only so big we quickly discovered grey water on the floor in the bathroom. With that we secured the inside and went to empty out.
The site we reserved was very private, sloped terribly but offered great views of the surrounding mountains. The biggest complaint would be the trains that passed close by.
Sylvan Lake Provincial Park
Sylvan Lake is one site we will not be returning too. Although the sites are fairly private the smell of sewage seemed to waft in all the time. We mentioned it at the booth but no solution was mentioned. When you can't even enjoy sitting outside there is a problem.
Lesser Slave Lake Provincial Park
Lesser Slave Lake was a bit disappointing only because we were not told ahead of time that they did not have potable water. Every other provincial campground has provided potable water free of charge so we had not filled up before leaving. We only had about half a tank. This meant that we did not stay as long as we wanted. The area was beautiful even though the area had recently suffered major forest fires.
Websites for Places We've Visited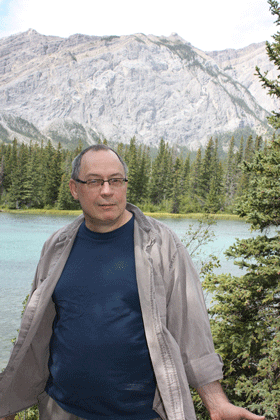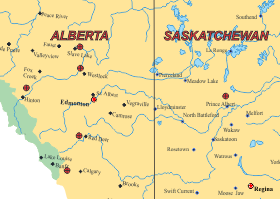 Find Other Roadtrek RV'ers Here